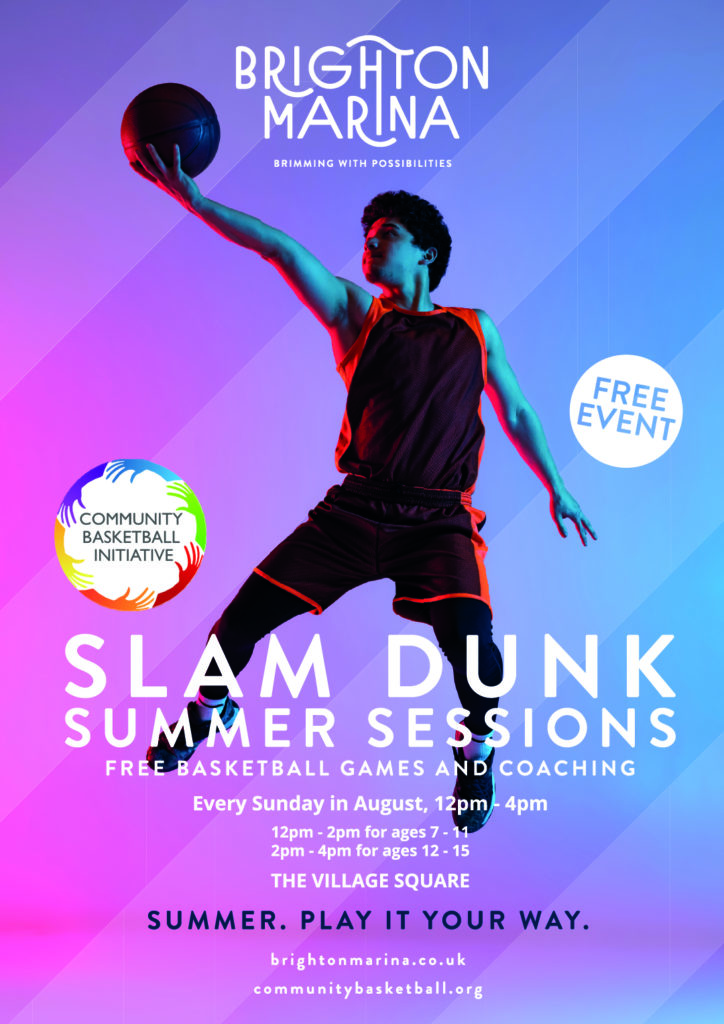 FREE CHILDREN'S BASKETBALL SESSIONS
THROUGHOUT AUGUST AT BRIGHTON MARINA
Brighton Marina offers children's basketball initiative this summer holidays.
Free basketball games and coaching every Sunday in August, 12pm – 4pm.
12pm – 2pm for ages 7 – 11
2pm – 4pm for ages 12 – 15
This summer, Brighton Marina, in association with the Community Basketball Initiative will be offering a month of free Basketball.
Children between the ages of 7 – 15 years can turn up throughout August at The Village in Brighton Marina to be coached by professional basketball coaches.
The sessions will run every Sunday on August 6th, 13th, 20th and 27th and are a great opportunity for youngsters to learn a new sport or improve their current basketball skills.
Children 7 – 11yrs can train between 12 – 2pm and 12 – 15yrs between 2 – 4pm.
The Community Basketball Initiative (CBI) was created in April 2014 as a community group to develop basketball playing, coaching and officiating opportunities in Brighton. They work mainly in recognised areas of deprivation where there is a clear demand and in partnership with dozens of local groups to maximise participation.
The basketball sessions at the Marina will be run by four experienced coaches, Miguel Tello from Zaragoza, Spain, who is the lead coach for the CBI and Head Coach at the Force Basketball Club in Seaford, Bryan Van Namen, a veteran coach of 30 years who also coaches The Force, Samuel Martinez, the Manager from Brighton Cougars and Mason Roach, a level 2 coach and player at Brighton Cougars basketball club.
Miguel has played basketball in Division 1 of the National League and competed for Brighton Cougars until he was 35 years old. He studied at the University of Wales Institute of Sports Development and coaches Masters. He regularly runs coaching training courses.
Miguel said, "Over the past few years we have really seen an increase in participation in basketball possibly due to children watching the sport on YouTube and social media. There are many highlights of NBA Games which have been adapted for the interest of kids. The amount of hours children watch basketball on their phones has really helped with the popularity of the sport. It is a cool sport and as soon as they give it a try, they love it. It's a lot of fun and the team dynamics offer a lot of benefits to children and adults alike."
He continued, "At the Marina, we will have three sizes of hoops provided for the children to accommodate all the different sizes and ages. We would love to see girls coming to try out as we really want to increase the numbers of females playing. These sessions are open to everyone, and we see how the sport develops girls' confidence and offers them new friendship groups."
Sophie Chandler, Marketing Manager for Brighton Marina said, "We worked with CBI and Miguel prior to Covid, and it was so popular that we wanted to offer it again. We are delighted that we can utilise the talented coaches in this area for the benefit children in the community. Children can come from all over the area to participate in a safe and welcoming environment."
ENDS
Media Contact:
Andria Allan (Rudy)
07810 283098
Editor Notes:
For further information on the Community Basketball Initiative please contact info@communitybasketball.org
Seaford Force Basketball Club – www.forcebasketball.co.uk
Brighton Cougars Basketball Club – www.eastbrightoncbi.org