THIS IS NOW FULLY BOOKED, APOLOGIES FOR ANY INCONVENIENCE.
Saturday 18th of December until Tuesday 21st December Santa will be at Brighton Marina at Brighton Marina's Christmas Grotto from 12pm to 5pm every day!
Join us on a magical journey through the snow clouds, lights & sparkles! Take a trip down the fabled ribbon alley to meet Santa's elves in their toy workshop & light laboratory. Test out your making, playing & selfie skills and earn your Elf points on route to meet Father Christmas to receive your gift.
This is an indoor multi-sensory walking trail with a variety of festive-themed environments & interactive installments.
BOOKING ESSENTIAL
For more details check the image below: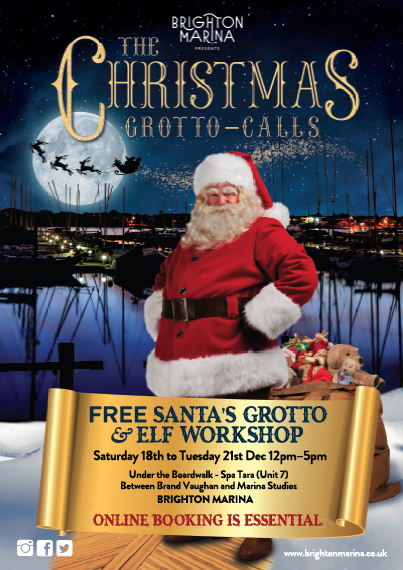 Please find the press release from Brighton Marina below.
This Christmas, Brighton Marina are welcoming families and children to their free Christmas wintery wonderland with a Father Christmas grotto and elf workshop at Spa Tara under the Boardwalk next to Marina Studios.
Over four days, between Saturday 18th to Tuesday 21st Dec,12pm-5pm, Spa Tara will be transformed into a Christmas festive-themed installation where visitors will be able to participate in an interactive magical journey which will take them through an indoor walking trail with snow, clouds, lights and sparkles where they will get creative in the elves' workshop and visit Father Christmas in his grotto to receive their present.
On arriving at the wintry wonderland, participants will walk through Ribbon Alley where the ceiling and walls are decorated with ribbons and presents and the odd cheeky elf in hiding. Then onto the elves' toy workshop and light laboratory where children will be taught how to make star wands before moving into the next room where they will have their wands/stars illuminated. There will be elves in each workshop to help guide participants through the process.
Sophie Chandler, Marketing Manager for Brighton Marina said, ". We are delighted to be working with Artpod again who created our successful 'Alternative 12 days of Xmas' and 'Fright on Marina' events which sold out last year. We love the idea that the illuminated star/wands the children make can be put in their windows at home so that Father Christmas can find them on Christmas Eve!"
Sharon Mee from Artpod, said, "We are aiming to make this event really special for families and we are excited to be able to use all four elements of our installations together for the first time; – ribbon alley, the snow cloud installation, bauble hall and an elves workshop all in one place. The combination of these four creations will really create a wonderful, mystical environment that families will love."
This festive trail includes different performances each day including singers and dance troupes to entertain the whole family, the chance to test out their making, playing and selfie skills and earn elf points on route to meeting Father Christmas to receive their gift.
Online booking is essential as there will not be any drop in options on the day. Click here to book.