Join Brighton & Hove's exciting Move for Change campaign and help make our city a more vibrant and liveable place to be.
This yearlong campaign which launched in February, which has nearly 1500 users, is powered by the BetterPoints smartphone app. It is available to all residents, employers and employees in Brighton & Hove.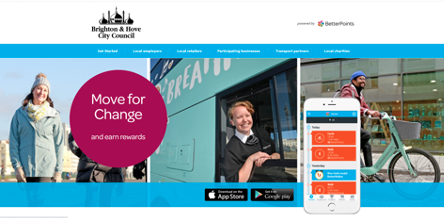 The Move for Change campaign encourages people to get active and incentivises and rewards users.
By traveling actively and sustainably (walking, wheeling, running, cycling or using public transport) users of the app earn BetterPoints (a virtual currency) or BetterTickets (for virtual prize draws) which can then be converted into rewards, such as discounts, money off vouchers or donate to charity. BetterPoints can be redeemed at selected local high street shops or online retailers.
You can earn even more points by swapping car journeys for walking, cycling or using public transport. So change the way you travel today and feel the rewards.
Simply download the BetterPoints app on your phone, follow the instructions and join the Move for Change campaign.
Find out more here: Move for Change – Brighton and Hove (betterpoints.uk)